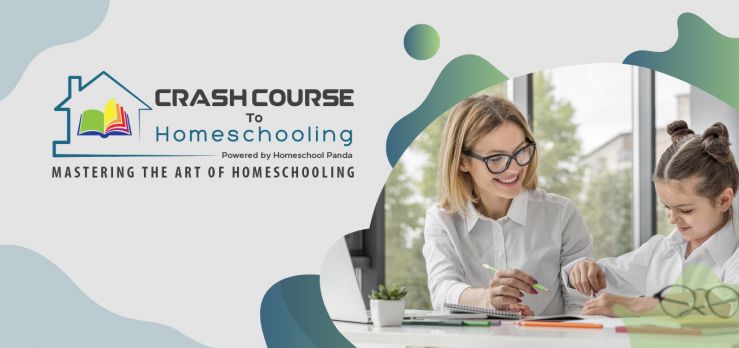 Master the Art of Homeschooling
Millions of American families are turning to homeschooling during the COVID-19 pandemic, according to recent reports. Many more have opted for this philosophy because they are not satisfied with the education provided by traditional schools. However, deciding to homeschool is one thing but staying consistent is a separate story. Homeschooling is a lifestyle and requires a certain type of mindset to keep up with the challenges it brings. We are aware of the problems homeschoolers face and have found that lack of proper guidance is a major factor. Don't feel disappointed though, our online homeschooling program aka "Crash Course to Homeschooling" has got you covered.
Related: Coronavirus prompts many families to rethink sending their children to school. Homeschool Panda is here to help
What is this Online Course about?
If you are finding it hard to stay positive or wondering how to start homeschooling, our online course will serve as a guide for beginner homeschoolers & veterans as well. The course, titled; Crash Course to Homeschooling, is one of the best online homeschooling programs of 2020. It was created with the help of 7 experienced homeschool moms namely Hana Khatib, Candice Kelly, Tanya Faisal, Sayeda Khan, Tricia Brookover, Lindsay Rincon, and Michelle McCallum.
Related: Why Homeschooling your kid is a Good Idea
The sole purpose of this course is to equip you with the right tools and empower you to homeschool efficiently & effectively.
What's Included in this Online Homeschooling Program?
Video Lessons:
It includes over 50 videos that will teach you how to start homeschooling and help you understand the concept in depth. You will get to learn about different curriculums & homeschooling styles and guidance on how to choose the one that fits your needs.
You will be provided with tools & educational resources that will help you decide which homeschool curriculum to go for.
The training in this online course will also allow you to make your homeschooling experience more productive by learning how to balance homeschool & work.
Live Q&A Sessions with Our Speakers
Just creating an online crash course wasn't enough for these homeschool moms, they wanted to make sure you are getting the most out of it. With that in mind, this crash course will allow you to talk to the course creators in a live Q&A session and get solutions to your problems in real-time.
Exclusive Access to Facebook Community
Upon sign up, you will get exclusive access to a Facebook community that is dedicated to helping homeschoolers around the world. The Facebook group represents a cause that aims to debunk homeschooling myths and revolutionize the modern education system via the #RevolutionHomeschool movement.
Sounds too good to be true? Well, it's good, it's true, and for just $28.50 it is a bargain. But wait, there's more… if you get it now, you will be eligible for an Early Bird discount.
Sign up today and start reaping the benefits of homeschooling. We are eager to show you the beauty of homeschooling.