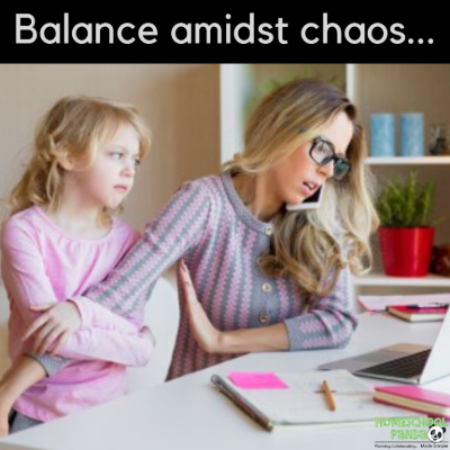 How to Balance Homeschool and Work?
Many first-timers who are asking Google; how to homeschool your kids? are also searching for queries like how to balance homeschool and work? While it's not everyone's cup of tea, we at HSP believe that these helpful tips can make your work & homeschooling life manageable.  
If you are reconsidering the decision to homeschool, remind yourself why you started in the first place. Remember the joy of seeing your child nurture in a more meaningful way and witnessing their academic & social growth. We acknowledge that finding the sweet spot is challenging and can be stressful. However, HSP's top 4 tips mentioned below might help you manage both worlds and let you reap the benefit of homeschooling.
Related: Coronavirus prompts many families to rethink sending their children to school. Homeschool Panda is here to help
1. Maintain a Schedule
Make schedule your best friend because failing to plan is planning to fail. Whether it's a home-based job or in an office, planning tasks ahead of time makes it easier to complete them.
If you are an HSP user, you can use the Calendar feature to schedule lessons and add activities in advance. (Bonus feature: you can also make any last-minute changes with one swipe!)
2. Keep it Simple
When it comes to lesson planning and devising a curriculum, stick to the basics. Take baby steps and let the child explore and decide what he/she wants to study. Take it slow, do not burden yourself and the child with new curriculum if it's not needed. Do this for your sanity and the children's too.
3. Keep Track of Your Child's Progress
Most veteran and new homeschoolers don't keep a digital record of their child's performance. This might not pose an issue in the short-term but when it's time for the annual homeschool evaluation it can get stressful. Failure to provide evidence of your child's progress will get you in trouble if the state laws require that.  
Try and switch to a digital record-keeping system like HSP's online lesson planner, if you still haven't. This all-in-one homeschooling solution will help in lesson planning and keeping track of the child's progress via the Profile feature.
Related: Tesla CEO Elon Musk Thinks Traditional Schools are Useless
4.Teach them to be Autonomous Learners
One thing that most homeschoolers struggle with is to instill enough independence in their child. This is especially important for parents who work from home or office. Let your children understand that you will not be able to guide or teach them all the time. It will not only leave you(parents) with enough time to work but also make your child more responsible and independent. This will induce traits like autonomous learning and also enhance their decision-making skills.  
(Bonus tip: Assign them reading, writing, or drawing exercises!)
Are there any other helpful tips we missed? Reach out & write to us on Instagram, YouTube, and Facebook.