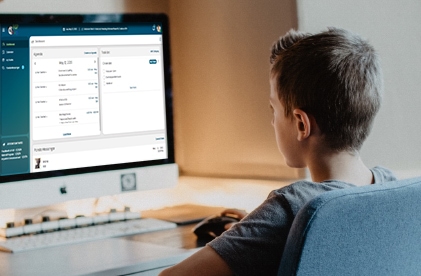 Why Homeschooling your kid is a Good Idea
Homeschoolers have met with opposition throughout history and have often been portrayed negatively. The recent article by Harvard Law professor, Elizabeth Bartholet, is a continuation of that school of thought. However, the concept is changing now and E-Learning & homeschooling during the Coronavirus pandemic is becoming popular with each passing day. Online homeschool planners like Home School Panda (HSP), K 12, and E-tutor are giving parents and educators a reason to opt for the future of schooling.
Related: From School to Homeschool: What, Why & How
What are the benefits of Homeschooling?
According to Professor Elizabeth, the idea of schooling from home is synonymous to a prison. Yes, you heard that right. She calls it an academic prison. Just like the past, she thinks that the advantages of homeschooling your child are less than its disadvantages. Like many others opposing the idea, she believes homeschoolers are vulnerable to abuse and lack social skills.
"It is a prison of reading, writing, arithmetic, and Bible. Homeschooling not only violates children's right to a 'meaningful education' and their right to be protected from potential child abuse but may keep them from contributing positively to a democratic society."
However, there's hardly any evidence supporting the ideology that the majority chooses schooling from home because of religion. According to recent stats, more parents are opting for homeschooling with an increase of 2% to 8% per annum. Parents are choosing to homeschool to provide 1 on 1 attention, prevent bullying, individualized learning, and reaping benefits of E-Learning during the Coronavirus chaos.
There's a growing belief that the advantages of homeschooling exceed those of the traditional school systems. Here are a few reasons why you should homeschool your kids:
Homeschoolers develop a better understanding of their subject because there's a will to learn given a relaxed and less competitive environment.
While traditional institutions stop working in a crisis like COVID-19, homeschooled children continue to benefit from online schooling programs.
Homeschooling can save your kids from bullying at schools. Such events are life-changing and can harm their personalities.
National Home Education Research Institute's data shows that those schooled at home perform better academically.
Physical disability might be a hindrance as far as traditional schooling is concerned. However, getting educated at home will pose no difficulty in such cases.
With public education systems deteriorating and private schools getting expensive by the day, homeschooling is turning out to be the best option available.
Do you agree with the Harvard professor or do you think it's an attack on homeschoolers and homeschooling?