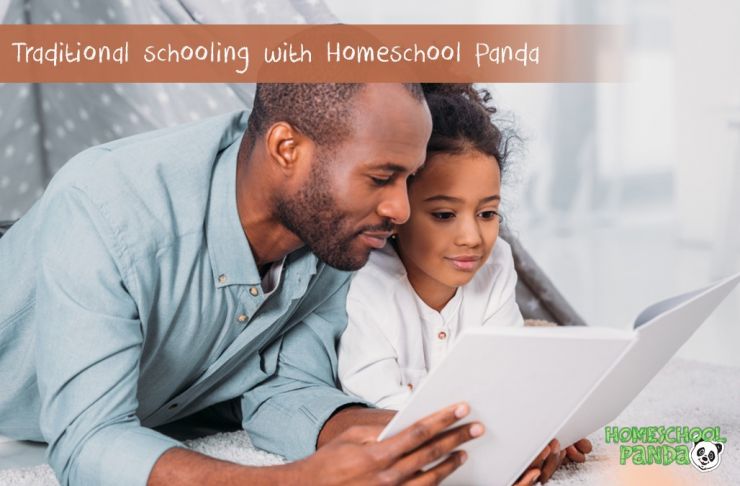 How to use Homeschool Panda if you're a Traditional Schooler  
Homeschool Panda is one platform built for all families; traditional schoolers, unschoolers, eclectic homeschoolers, and basically, a mix and match of all types of schoolers. The Panda app allows users to:
Find everything they need to homeschool their children in one place.

Make separate accounts for children to login using HSP Kids, a child-friendly, panda-monitored platform on which the little ones can view, create and complete their daily homeschool tasks.
Keep records of the child's progress and generate portfolios.

Plan lessons, create events and assign chores.

Connect with nearby homeschoolers, interact with homeschooling families across the globe and communicate easily using the panda messenger.

Share their homeschooling journeys on the first ever social network for homeschoolers.

Schedule beforehand, manage their budgets and organize their daily routines.
View their secured and synced data on all devices. The panda is compatible with both iOS and Android.

Make their homeschooling experience less overwhelming and more rewarding by using the FREE homeschool panda application.
With all of these exciting features, here's how traditional schoolers can simplify their lives:
The Panda helps with the curriculum:
Homeschool Panda allows you to add your curriculum choices and plan lessons around them. The panda's automated planner allows you to select your start and end dates, time, school days and lesson names and just in a few clicks, an entire lesson plan is created for which can be assigned to your students, individually, all at once and even multiple times! If homeschoolers around you are using the same curriculum, you can find their lesson plans and import them by using the Import Lesson Plan feature without any hassle!
HSP helps you plan ahead:
We know that traditional schoolers love to plan ahead and that is why the panda lets them create assignments, days off, and events all ahead of time and allows their schedule to appear on the calendar and the dashboard. Moreover, the parent account can also create kid accounts and by using the credentials generated, the children can log in to HSP Kids and view their schedules.
HSP Kids is your child's best friend:
HSP Kids motivates the child to accomplish tasks and embeds in the children self-driven skills by letting them add books to the library, allowing them to rate and review the books, by helping them connect with like-minded individuals through the secure panda messenger and of course, letting them plan, mark tasks complete, create and edit their schedules with the parents being notified.
The Panda is flexible:
The Panda understands that external events can hinder the schedule. But, without any efforts the reschedule option enables the user to shift one, two or all the assignments ahead of time. It requires no manual effort and there are certainly no anxiety attacks for missing out on a day. You start off from exactly where you left!
HSP understands you!
Children are unique and at times, they require time to polish their strengths and eliminate their weaknesses in respective subjects and so, the Panda allows the parent to cater to unexpected sick days and delays in reaching the goals by using the Drag and Drop option to update the plan.
HSP helps you achieve your objectives:
Assessing the child's progress and the achievement of short and long-term goals has never been easier. HSP allows you to generate portfolios for children weekly, monthly and yearly. These are reports with dates, lessons, and descriptions for each day. To help visualize the day, pictures can be attached and generated alongside as well!
With the Panda on board, traditional schooling certainly becomes more efficient and effective!