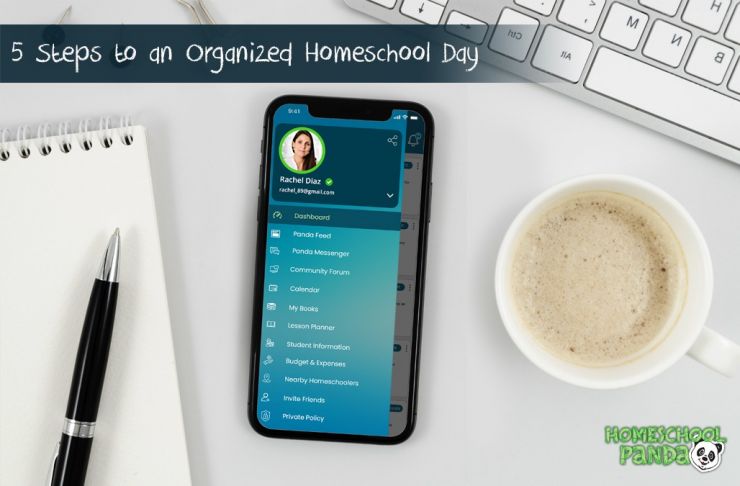 5 Steps to an Organized Homeschool Day!
Managing a home is not an easy task and it can often be overwhelming. We've all been there, and we all wish to find solutions that would make our days easier. Is it possible to have an organized home with perfectly planned out routine for all members of the house? Yes!
Here are five steps to having a productive homeschool day. It will help you balance out your time, so you do not fall behind on your routine.
Step 1: Start the day early and start it with joy
Truth be told, not many really love mornings but, research actually proves waking up early kicks off a productive day. A great way to look forward to morning is to start your day by doing something you enjoy. It could be starting the day with your favorite brewed coffee and favorite motivational book or a quick meditation or yoga. It could also be trying out a new cereal or going for a run or walk with friends or your children. Remember to start the day with joy. Waking up fifteen minutes or thirty minutes early will always give you ample time for your daily chores and keep your schedule ahead of time.
Step 2: Storage Bins make life easier
No one adores waking up to a mess or even sleeping in a cluttered house and clutter is inevitable. Storage bins are lifesavers for homeschooling moms and moms in general. Bins with labels, customizable bins, and fancy cotton rope baskets – the Organizer Logic storage kits come in all types for all tastes. They help to declutter the house in an efficient manner.
Step 3: Don't have a tedious routine
Always make a routine according to your lifestyle and be flexible. A homeschooling routine that worked for your friend or your favorite blogger might not work for you. Each child and homeschooling experiences are unique. Keep your routine flexible and keep a variety in your days. This way daily life won't become monotonous and you and the children will enjoy the homeschooling journey. Remember, the happiness of homeschooling lies in the journey and not in the destination.
Related: How to Balance Homeschool and Work?
Step 4: Have an escape plan
There can be blue, gloomy days where you or the children just don't 'feel like it'. To make such days productive, have an escape plan. One of the many perks of homeschooling is that you can take it anywhere. Take your studying in a park and enjoy reading over a picnic. Homeschooling allows you to shift and change schedules easily without external issues. Take the solar system lesson to the planetarium, take the plant lesson to the botanical gardens, or just act the history lessons out in the living room. You can even make the days shorter and set rewards at the end of assignments for the children.
Step 5: Listen to your children
Homeschooling might be a daily task that both you and your partner plan, but occasionally, it can be great to listen to what the children want. Adding that to the routine will excite them and it'll become a two-way street where you'll have a win-win situation. The children will study and have fun and the day will be productive. Martha Stewart, a homeschooling mother of five reports how baking every now and then excites her daughters and for that, they finish their lessons on time. "They give me what I want so I give them what they want!"