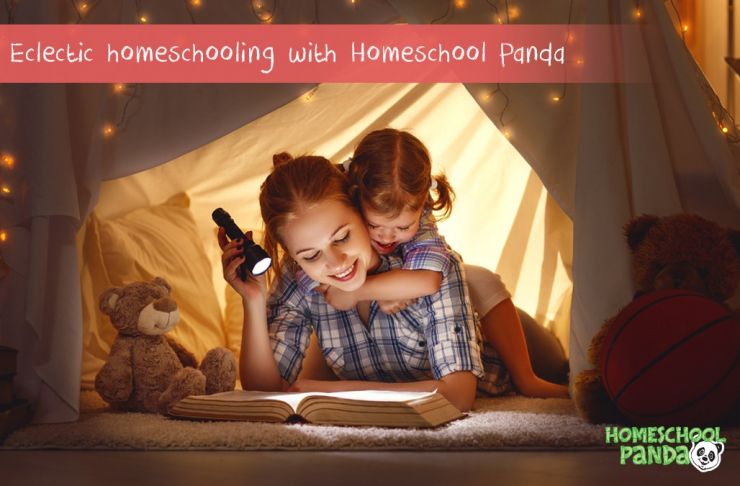 How to use Homeschool Panda if you're an Eclectic Homeschooler 
Eclectic homeschooling is when parents customize and personalize what is being taught to their children by choosing parts of several homeschooling resources which serve their needs best. Eclectic homeschoolers follow multiple curriculums at the same time and to make daily management simplified, organized and easy, Homeschool Panda is a remarkable tool to have in an eclectic homeschooler's home.
Here's how this FREE application can change your eclectic homeschooling experience:
Panda Tip:
List out the subjects you would like to achieve and create a quick lesson plan and add it to your calendar

Weekly either via the calendar or Edit Assigned Lesson via Student Information update the curriculum or resources you would like to use for the week

You can also plan from behind which means at the end of every homeschool day, enter in everything that was accomplished. This is a great time to add any picture from the homeschool day that would make a great memory and be part of your portfolio
With HSP, the options are unlimited!
Using HSP, you can add unlimited curriculum whilst making lesson plans and you can assign them to all students, specific ones and even to multiple students.

Within the lesson plan module, you have the option to add resources, daily notes, and drag and drop files so that the chapter/assignment or test can easily be managed.

You'll have planned your months without any effort and frustration! HSP helps you to mix and match to the best of your child's interests.
HSP offers calendar scheduling like never before:
With HSP, you will never fall behind. The calendar automatically adjusts your schedule to any unplanned changes and delays, therefore moving the selected or all tasks assigned ahead by offering several options: Drag and Drop on calendar, Re-scheduler tool, marking Days Off. You're never bound to a tedious routine. The changes will automatically be updated to your child's account as well.
Lead a stress-free life with automatic changes:
With the Panda, you can mass plan and plan ahead by adding all the subjects that you want your child to cover. The panda will have all your data in one place to save time, cost and effort at your end.
With HSP, it is never too late to make changes and adjust lesson plans. No matter how much progress has been achieved, you can allot more days to a plan and edit the resources needed for it.
Homeschool Panda is the best friend all Eclectic homeschoolers need!
Homeschool Panda is a must-have for every homeschooling family across the globe. It offers more than just lesson planner:
Panda Messenger - communication through text, images and documents across the globe with a messaging application

Connecting with nearby homeschooling families

Panda Post- The first social media network for homeschoolers
Budget and expense planning

Book Log Repository

HSP Kids – a secure and monitored platform for homeschooling kids to: create, view, and mark their assignments, tests, and events complete, to read, rate and review books, to interact with other homeschool kids and to view their daily chores and tasks on the dashboard.

Portfolio generation – a weekly, monthly and yearly report with pictures of the homeschool journey to assess the children, track their progress and meet short-term and long-term objectives easily.

To-Do list – a digital list classified into categories and tasks with the ability to be synced to all your devices.